ORGANIC PUMPKIN SEED PROTEIN POWDER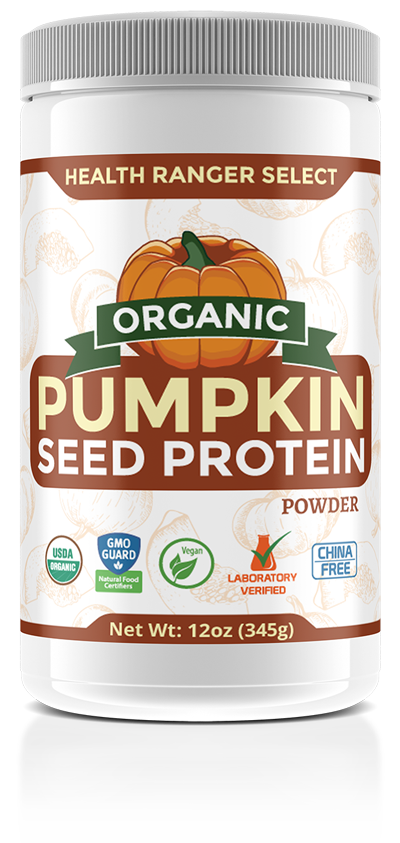 If you've always relegated pumpkins to autumn baking and jack-o-lantern carving, it's time for a nutritional crash course on the health benefits of these power-packed little seeds. Pumpkins offer incredible health benefits that early Americans recognized, but that we're just now starting to fully appreciate.

Pumpkin seeds actually contain a surprisingly high percentage of protein--about 35%--along with high levels of antioxidants and necessary minerals like zinc and magnesium. Health Ranger Select Organic Pumpkin Seed Protein Powder offers one of the most complete, versatile sources of 100% natural protein you'll find--along with a wealth of other health benefits that give traditional protein powders a run for their money.

WHAT'S SO GREAT ABOUT PUMPKIN SEEDS?**

Pumpkin seeds, sometimes called pepitas, are the cream-colored seeds found inside all pumpkins. If you've ever carved a jack-o-lantern, you've encountered them when scooping out the stringy, seedy inside of the squash. Pumpkin seeds are sometimes roasted and eaten as a snack or appetizer or used as an additive in baked goods. The health benefits are impressive: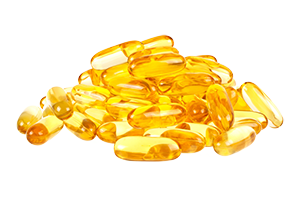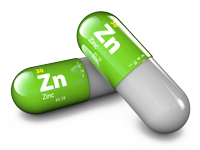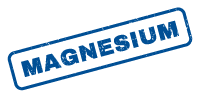 Rich source of zinc, which supports immune function and helps improve sleep quality and moods
Excellent source of plant-based Omega-3 fatty acids
High levels of magnesium, which is essential for heart health, muscle recovery and relaxation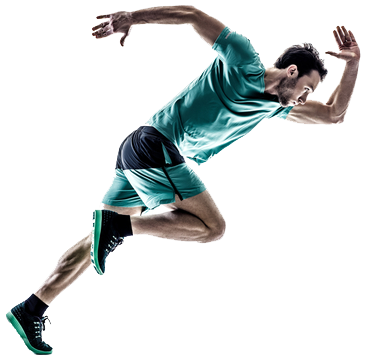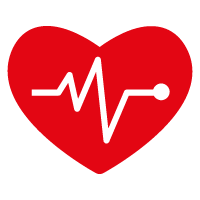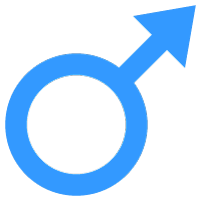 Efficient source of natural protein

May help support effective natural insulin regulation

Supports heart and liver health
You'll make hundreds of decisions over the course of each day, and arming yourself with the best possible nutrition is one of the best decisions you can make, whether you're an athlete or just working toward finding your best possible self.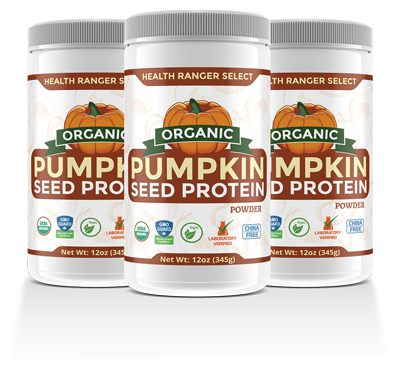 PROTEIN FOR STRENGTH AND ENDURANCE
Because pumpkin seeds are low in sugar, fats, and carbohydrates but high in protein, fiber, beta-carotene, and Vitamins K, C, and B3 and B6, they're one of the most effective plant-based protein sources on the market today. Our pumpkin seed powder is pure, completely raw, vegan, non-GMO, and packed with health benefits.**
For everyone else, pumpkin seeds make sense because they offer such wide-ranging benefits and because they're so easy to incorporate into everyday meals. Add pumpkin seed powder to baked items, smoothies, soups, granola, or practically anything else to transform an everyday dish into a superfood-packed nutritional powerhouse.**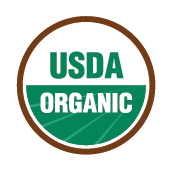 Pumpkin seed powder is exponentially more effective when seeds are fresh, gently dried and milled, and packaged without extensive processing, additives, or preservatives. Health Ranger Select Organic Pumpkin Seed Protein Powder is always certified organic, non-GMO, and sourced from Europe. Because every batch is lab-verified for purity and heavy metals at the Consumer Wellness Center Lab, you can be confident that every serving is of the highest possible quality.

Organic Pumpkin Seed Protein Powder

Organic Pumpkin Seed Protein Powder (3-pack)

Organic Pumpkin Seed Protein Powder (6-pack)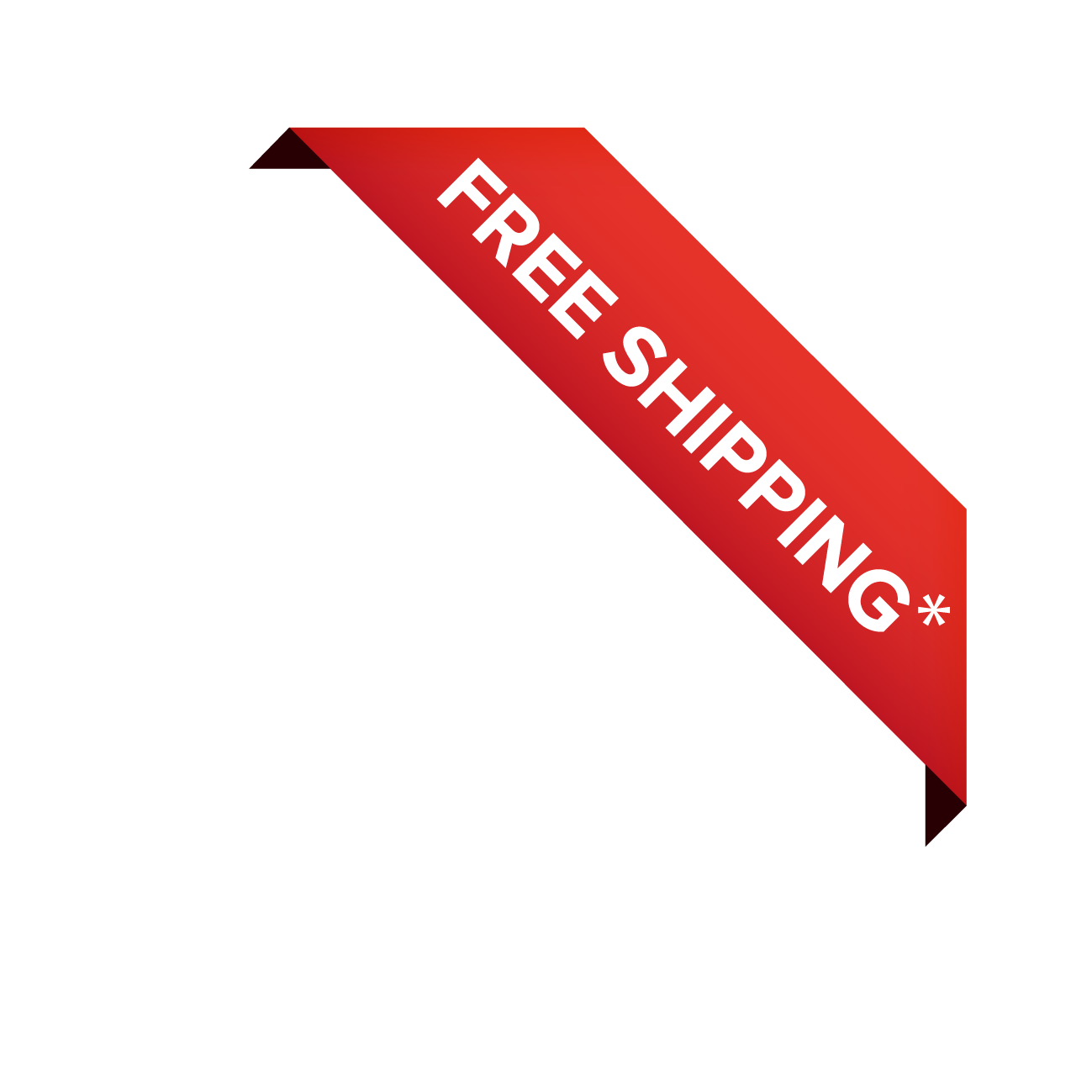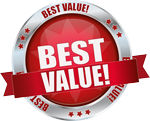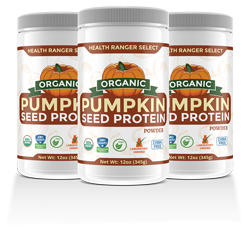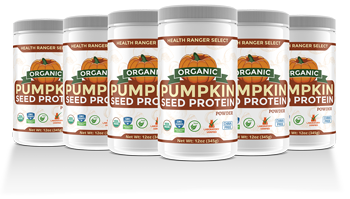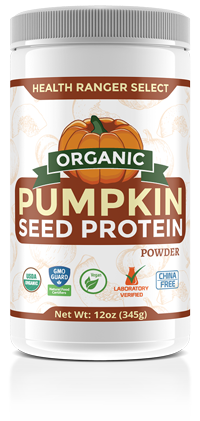 MSRP: $24.95
Your Price: $21.95
Savings: $3.00 (12.02%)




MSRP: $74.85
Your Price: $62.55
Savings: $12.30 (16.43%)




MSRP: $149.70
Your Price: $118.53
Savings: $31.17 (20.82%)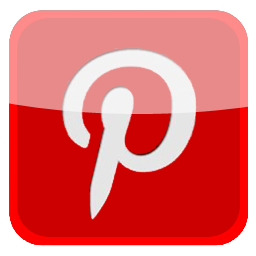 * Free Shipping within the Contiguous U.S. (48 states) on orders over $99.

**These statements have not been evaluated by the FDA. This product is not intended to treat, cure or diagnose any diseases.